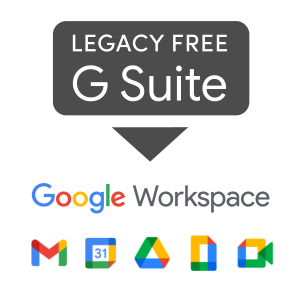 G Suite Legacy free will no longer be available and action is required till May 1. Find out what exactly that means and how to continue to use your favorite office productivity suite – with extra benefits!
As Google announced a few weeks ago they are discontinuing their free version of the G Suite that has been in use since 2006 by many businesses worldwide. It was a free version of the office productivity suite called Google Apps at that time. Google stopped offering the service in 2012. but customers who have signed up for the free version could continue to use it.
The G Suite legacy free will no longer be available starting July 1 and current users need to upgrade their account to a paid subscription by May 1 to keep their services. Although the plan had a limited set of business features, it was very popular and used by many companies devoted to this office productivity suite. G Suite has come a long way since then and has evolved to Google Workspace – a collaborative platform offering a rich set of features and functionalities that fit modern workplace requirements in every way. Google Workspace gained great popularity in the past few years by enabling teams to collaborate and stay productive from any place.
Upgrade your account seamlessly
If you are affected by this change, make sure you take the necessary steps before the service is terminated to avoid any disruptions in your business process.
As an experienced cloud consultant and Google partner, Miadria Group can offer you the services of a seamless transition to the paid version by offering special discounts. Additionally, when upgrading your account through Miadria, you get free access to Sign.UseWise™, an email signature management application for Google Workspace that enables you to centrally manage your company email signatures, keep your domains in order, set send as addresses for your users, and much more. Learn more about Sign.UseWise™ app here. 
Contact us if you need help with upgrading your account and choosing the right plan for your business – we can offer you consultancy and technical support as well. We invite you to fill in this form so that we can provide you with a solution that fits your business needs.