In a hybrid work era, Google is introducing features that enable you to seamlessly collaborate with your team no matter where you are. Now you can set your work location in Google Calendar for each day of the week and let your team members know whether you are working from home, office, unspecified or somewhere else.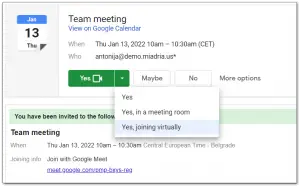 Once set, your work location will be visible to anybody with free-busy access to your calendar. You also have the new RVSP option in the calendar invitation where you can specify whether you are joining a certain event virtually or physically in the meeting room.
This feature is available for the following Google Workspace plans: Business Standard, Business Plus, Enterprise Standard, Enterprise Plus, Education Plus, Nonprofits, and G Suite Business.
Check out the short how-to video on the UseWise™ channel on how to add and change your work locations with just a few clicks. Do you have a topic that you want to learn more about? Use the following form to suggest a topic, we would be happy to cover it in one of our future videos.