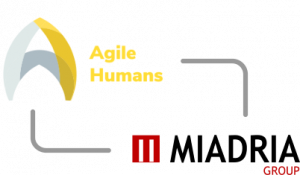 Miadria has always been proud to be the first at the forefront of new technologies and initiatives. We were founded eleven years ago when cloud computing was so new that it was not on the enterprises' radar. Today it is a buzzword creating interest in so many areas of human endeavors – from business to research and development projects cloud computing is the "it" word.
We are especially proud to announce today that we are reaching out to the new frontier. Miadria Group is proud to announce that we are part of Agile Humans initiative. This initiative has been founded in Belgrade just recently but we know it will be very successful because it is led by the lady that is larger than life – Jasmina Nikolić. She has a successful academic career but she is also MP in the Serbian parliament that got elected running the agile campaign and it was first such achievement worldwide.
Jasmina is now dedicating her time to Agile Humans, initiative concentrated on offering the agile management high-quality education and certification to companies and individuals. The initiative is focused on working locally, within cities and local communities but also will expand globally. As the first example of what this approach can do Jasmina Nikolić is bringing to Belgrade impressive team of experts for agile this month.
On the 24th of October, main speakers at the Belgrade conference will be Tobias Mayer, Doug Kirkpatrick, Achim Novak, Suzanne Daigle, and Evelyn Simon. Just look them up, they are all people that have weight in the world of agile. For Miadria Group the world is our oyster and we are publishing this press release in English because we know that the reach of Agile Humans will be much wider than Belgrade and the neighborhood.
Miadria Group will participate in the panel at the conference and our CEO Adriana Baranek will be talking about cloud computing and how agile and the cloud do go well together. Agile in its core is leading the frontier to change and new technologies where the cloud is at the forefront of innovation are required to be successful in implementing it. Using old outdated tools is just not good enough to bring change that is required with agile. The agile approach is one of the crucial elements of a successful cloud project and vice versa cloud should be one of the most important tools for the successful agile human. Thinking outside of the box assisted with the true cloud is what agile is all about.
Miadria Group is proud to be the essential part of Agile Humans initiative and excited to participate at the conference. Our efforts in the near future will go toward organizing training for agile in Zagreb and Houston, TX and focusing strongly on how the public cloud is the enabler for the agile and they work best together.
More about the conference can be found at agilehumans.city/agile-humans-belgrade-day. For more information about the conference, about agile and about Miadria contact us at agilehumans@miadria.com.