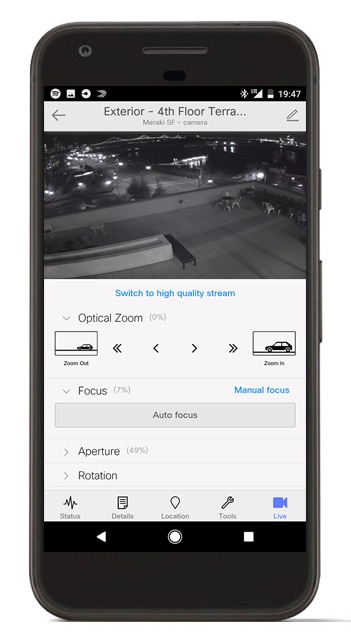 Cisco Meraki offers the only solution that provides unified management of mobile devices, Macs, PCs, and the entire network from a centralized dashboard. Enforce device security policies, deploy software and apps, and perform remote, live troubleshooting on thousands of managed devices.
Cloud management in the palm of your hand
Mobile devices aren't just about the latest gadgets — they've become a primary tool for IT administrators, who are depending on extending their tools to those devices more and more every day.
Network management using the dashboard app is just as simple as it is on the web. View the status of wireless networks at a glance, quickly identifying healthy or offline access points. See the details of any Meraki access point on the network and verify network connectivity, usage, and settings. Multi-site management is built-in, too.
However, someone needs to set up the whole system, adjust the surveillance equipment, climb the ladders to do it and be good at balancing different items while doing it. Luckily, with Meraki, there is a way out of that trap.