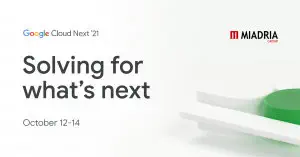 We invite you to join us for Google Cloud Next, happening October 12–14, 2021, for a fresh approach to digital transformation.
Make your Next '21 experience flexible by choosing your favorite sessions and discovering the content that is just right for you, including live keynotes, insights from experts, and engaging sessions. This is a great opportunity for you to connect with experts, see the latest tech in action, and uplevel your skills!
Some of the key topics on this year's Google Cloud Next include AI, ML, application development, application modernization, data analytics, security, Google Workspace, and many more.
The event is free to attend so be sure to register on time using the following link and stay tuned for more exciting updates and announcements as October 12 approaches.
See you at Google Cloud Next!