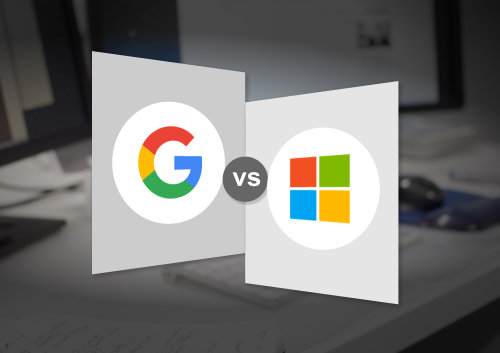 Since starting our UseWise™ YouTube channel, we have made several videos on how G Suite compares to Office 365. As you may have noticed, both Google and Microsoft, did some rebranding recently and we think it is important to keep you updated, so we made a fresh comparison. The video is based on a report published by Google which gives you interesting statistics based on the user experience of both productivity suites.
Google Workspace and Microsoft 365 are probably the strongest competitors when it comes to office productivity suites and companies often have a hard time deciding which one to use. Both suites have made significant changes and improvements this year but the question remains the same – Which one is better for your business?
To make your decision easier, and as experienced users of both productivity suites, we have prepared you an overview of how they compare in terms of communication, collaboration, satisfaction with the IT department, mobility, access to information and culture.
We can see some bad practices within companies that use various, often shadow IT solutions to get work done, instead of opting for an integrated suite of secure, cloud-native collaboration and productivity apps. Feel free to contact us if you need help with choosing the right suite for your company or if you wish to combine them – together we can find the best solution for your business.
Want to know more? See our comparison video and make sure you never miss an update from UseWise by subscribing to our channel.