The new Google Maps app for Android and iOS makes perfect sense once you get the hang of it, and the latest version makes it even easier to get where you're going or see every detail in your virtual surroundings.
1. When in doubt, swipe up (or tap)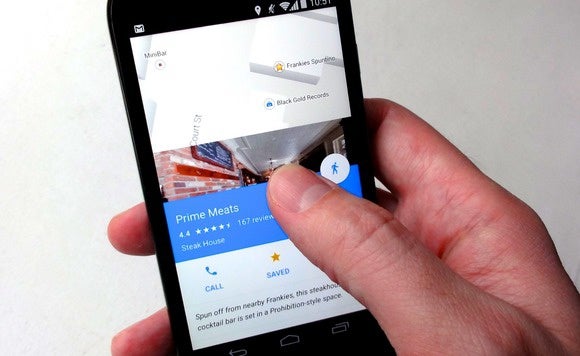 Swipe up on the address overlay to reveal ratings, hours, Street View, and more.
So, you searched on an address in Google Maps and it popped up, complete with a little window pane at the bottom of the screen with a street address and a blue "Route" button.
And…now what? What about the rest of the details, and where's Street View (the 360-degree photo panorama that you can swipe and zoom)?
The answer: Swipe up on the address overlay. Doing so will reveal ratings (in the case of a restaurant, cafe or another type of retail venue), menus, hours, Street View, and more.
And what if you want to switch to satellite view, or see local traffic or biking routes?
Find the little three-line menu button on the left side of the search box. Tap it, and another window will slide into view—this time, one with controls for changing the style of the map, accessing Google Maps settings, switching back and forth between your various Google accounts (assuming you have more than one), and seeing a list of "Your places" (more on that in a minute).
And if you find yourself gazing at Google Maps with no apparent way to go back, just tap the screen to reveal the Back button.
2. Type or say some commands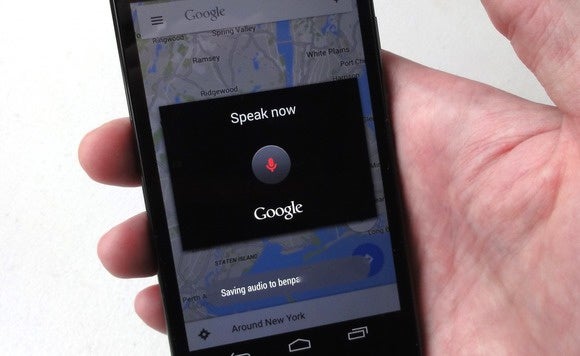 For quick directions through the Google Maps app, just speak into the microphone.
Tap the little microphone in the search box and say, "directions to the Empire State Building." Doing so will instantly bring up directions to the famous New York landmark.
You can also say (or just type) "find the nearest ATM," "where is 1234 Main Street," or "what's the best Mexican restaurant in the neighborhood."
Find more tips at http://goo.gl/iVojtt