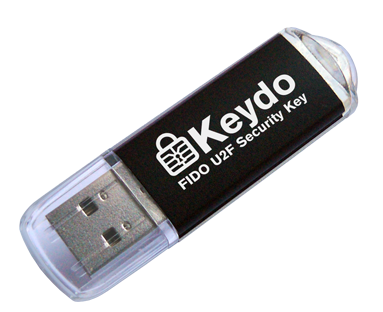 Instead of using more demanding solutions for second factor authentication with Google Apps, Dropbox and more cloud services you can use efficient, cheap and simple FIDO U2F compatible USB stick with a wide range of benefits:
Easy to use and deploy (HID device: no driver required)
Full compatibility with Windows, Mac and Linux
No security failure in case of key or password theft (Authentication requires both of them)
Second factor authentication fully compliant with google services through Chrome browser.
Private key storage based on smart card component( PKI / elliptic curves)
SSO implementations that support FIDO U2F specifications
Contact us at Miadria and we will find a proper solution for your login security requirements.

FIDO (Fast IDentity Online) Alliance gathers a wide range of technology players (Google, Microsoft, PayPal, Qualcomm, Lenovo, Visa, MasterCard, Alibaba, RSA, NXP, ARM, Infineon, Oberthur, Gemalto, Safran, DELL, etc.) whose purpose is to specify and promote a simple and interopable PKI-based security architecture (Public Key Infrastructure) to enhance users authentication security.
FIDO provides several user cases with simplified and secured online authentication solutions: FIDO U2F enables the use of a second factor to strengthen username and password login process. FIDO U2F specifications became available in December 2014 and were immediately implemented by Google on its own authentication portal. Since the beginning of 2015, many software editors announced the integration of FIDO technologies into their solutions including Microsoft with its native support in Windows 10.