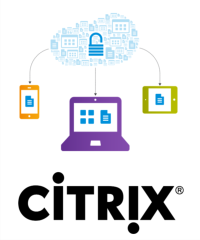 Citrix is a mobile workspace solution builder that give people new ways to work better with secure access to their apps, files and services wherever they go, acknowledging that nowadays the workspace is not attached to a fixed location anymore.
The company's philosophy is that networks, desktops, data and meetings have been decoupled from a physical location and transformed into digital mobile workspaces for a complete business mobility.
Companies now can choose to go truly mobile – to free their employees in order to feel empowered, work better and innovate. BYOD concept is supported too.
Among various solutions, Citrix offers DaaS – Desktop-as-a-Service platform for a cloud-based single login access to business data, apps and desktops on any device. Feel uncompromised user experience across all of your devices.
The system offers flexibility and scalability. You can easily add more users, delete ones that had left the company and scale the platform to fit your particular needs.
Citrix's simple subscription model enables you to predict monthly expenses in advance, with no need to make any capital expenses and spare time to build custom platform from scratch.
All of the hosted apps are automatically updated and you will always have the latest version of software. With powerful data security policies the business continuity is now very easy to maintain. What's better – your company becomes lighter and faster.
Miadria can help your company implement Citrix's Desktop-as-a-Service platform seamlessly. Please contact us for further details on the platform, subscription models and pricing.