Chrome is a modern, powerful browser that is easy to use and easy to manage. It is much quicker than rival browsers on the same hardware and it runs smoother providing much more convenient user experience when running complex business apps.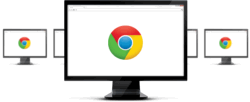 While the browser once was a simple way for employees to access web content, today it's a lifeline of the business. If your company has intention to go towards the cloud, switching to Chrome browser brings you one step closer to the goal.
Chrome delivers outstanding performance and flexibility and it is safe and extremely easy to deploy. You can apply more than 100 policies to fit your organization's needs. You can choose between auto-updates for a improved security or manual updates for more control.
Chrome's cloud-based management lets you customize policies and preferences for your employees from the web, whether they are on their business desktop computer, or personal laptop.
Naturally, the security segment is the top priority for Chrome for Work. Coming with the built-in malware and phishing protection it keeps you safe and secure on the always threatening network challenges.
Chrome runs on Windows, Mac, Linux, Android, and iOS. Plug-ins management, deployment of a private web store and compatibility management of older apps are all possible with Chrome for Work.

Chrome for Work is available to Google Apps for Work Customers.