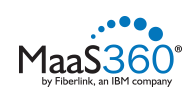 Every organization needs to see and control the mobile devices entering their enterprise, whether they are provided by the company or part of a Bring Your Own Device (BYOD) program. When you move to cloud and shift from desktop to notebooks and mobile devices you may need to start using more advanced mobile device management – MDM – solution more sophisticated than one that comes with Google Apps, Office 365 or other office productivity suites you might be considering.
IBM Fiberlink Maas 360 is the best full scale Mobile Device Management Solution that is available as a Software-as-a-Service solution.
Bring your own device (BYOD) has become one of the innovative concepts for corporations that want to adequately support mobile world that is evolving before our eyes. MaaS360 Secure Productivity Suite™ delivers a complete enterprise data loss prevention solution with consistent and seamless workflows.  MaaS360 mobile device management (MDM) is the fastest, most comprehensive way to make that happen.
It is the only complete cloud-based solution for iOS, Android and Windows Phone that enables employees to securely access corporate data while preserving the mobile experience on their personal devices.
MaaS360 is a comprehensive solution for total enterprise device management:
Multi-platform support to manage and secure all enterprise computing platforms—from smartphones and tablets to laptops and whatever's next, even employee-owned devices
A single console lets you manage everything from device enrollment to security policies, monitoring, application and document distribution and help desk support
Integration with Microsoft Exchange, Office 365, AD/LDAP, Lotus Traveler, Groupwise, and Certificate Authorities for advanced authentication
Implement robust policies for Bring Your Own Device (BYOD) security and privacy
Easy to use interface displays enterprise information on users, devices, and applications—a true 360° view of mobility
Mobility from the cloud lowers costs and risks with faster results:
Gain immediate insight and control without the added costs and complexities of deploying hardware
You are always on the latest version of the product without manual updates and maintenance windows
Availability guarantees based on service level, including uptime, backup and disaster recovery
Pay only for what you need, when you need it: start managing a small group of users now, and scale upwards as needed
Delivers much faster time-to-value than any on-premises solution, with set-up measured in minutes
Fiberlink has a proven history of mobility innovation, including:
More than a decade of delivering enterprise mobility and security solutions
Vertical industry expertise with built-in best practice compliance reporting
Advanced mobile analytic tools and device status reporting based on the knowledge and experience of what customers really want
Managing over one million devices, providing visibility, security, protection, and productivity
Contact Miadria IBM Business Partner to find out more about this solution and how it can fit within your needs and improve your corporate policies and security.